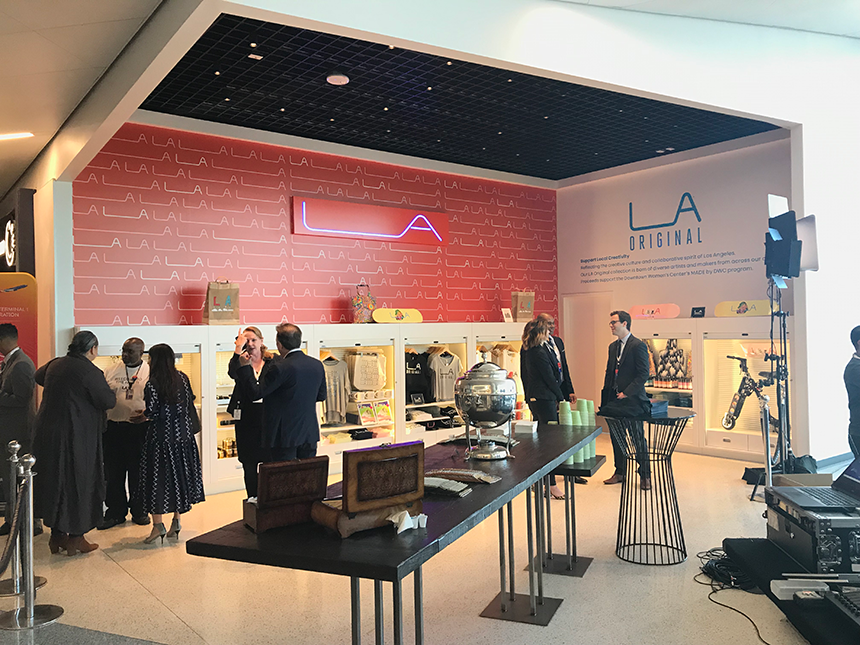 Link to images: https://bit.ly/2ASWTCF
LAS VEGAS (Dec. 5, 2018) – LA Original operated by Marshall Retail Group recently opened inside Terminal 1 at LAX. The store offers travelers the opportunity to shop a wide range of unparalleled, premium products.  It showcases diverse makers and promotes locally designed, assembled, or manufactured goods through a line of LA‐branded products from across Los Angeles. Proceeds support creative entrepreneur programs.
"We are excited to offer visitors and locals alike of Los Angeles with products that are born from the collaborative spirit and creative culture of the city," said Michael C. Wilkins, Chief Executive Officer of Marshall Retail Group.
LA Original is a platform to showcase diverse makers and promote Los Angeles' local goods ranging from apparel, accessories, beauty, food, lifestyle and specialty gifts.
The LA Original store celebrated its grand opening with a special visit by Mayor Eric Garcetti last week.  LA Original is a pilot program of the Mayor's Fund for Los Angeles in collaboration with the Mayor's Office of Economic Development. The Mayor's Fund for Los Angeles jumpstarts innovative solutions and new ideas that drive civic impact.
LA Original is open daily from 4:00 am – 11:00 pm inside Terminal 1 at LAX.
For more information about LAX, visit www.flyLAX.com or follow on Twitter @flyLAXAirport, on Facebook at  www.facebook.com/LAInternationalAirport, and on YouTube at www.YouTube.com/laxairport1.
###
About Marshall Retail Group
Marshall Retail Group (MRG) is America's largest, independent specialty retailer in the airport, casino, and resort marketplace. For 60 years, MRG has provided clients with a portfolio of attractive, successful brands that turn pedestrians into window shoppers, window shoppers into buyers, and buyers into loyal, repeat customers. The premiere retail development company currently operates more than 170 locations across the United States, with 70 of those operating inside airports. Stemming from iconic retail pioneers, Art Marshall and Herb Rousso, MRG has grown into a wide variety of markets such as major gaming corporations and many of the nation's largest airports by "Creating Unique Experiences" with the consumer in mind. MRG has been awarded "Best Brand Retailer" and "Best Customer Service in Retail" in the 2019 Airport Experience Awards®, and winner of USA Today's "10 Best" awards in 2019 for "Best Airport Shop for Local Merchandise." For more information visit: marshallretailgroup.com. Like and follow MRG on Facebook, Instagram and Twitter.
Media Contacts:
Kirvin Doak Communications
marshallretailgrouppr@kirvindoak.com
702.737.3100