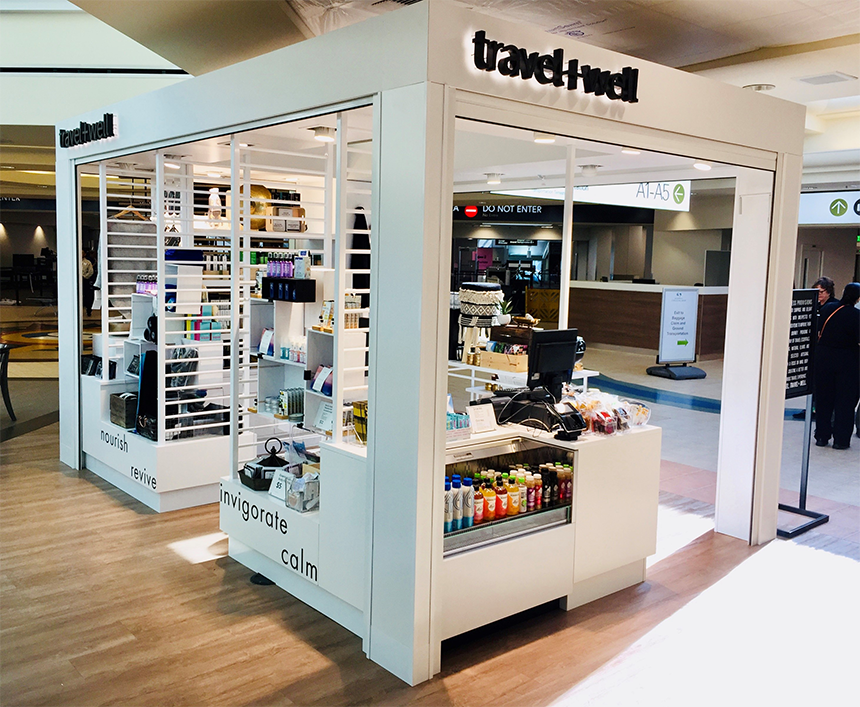 Images may be downloaded here.
LAS VEGAS (Aug. 16, 2019) – Marshall Retail Group (MRG), America's largest, independent specialty retailer in the airport, casino, and resort marketplace, connects travelers to its newest wellness shopping kiosk travel+well, now open inside Sacramento International Airport (SMF).
The newest travel+well installment features products aimed to enhance the airport and in-flight experience of the everyday traveler. Marshall Retail Group's focus on "Creating Unique Experiences" for the consumer is reflected through the thoughtfully chosen items designed to replenish and elevate the well-being of all travelers.
Among the featured products is nutrient fortification brand truereplenish, which offers rapid rehydration supplements formulated with plant-based antioxidants, minerals, electrolytes, and essential A, B, C, D, and E vitamins. Other products include essential oils, organic drinks and snack foods, travel pillows, cashmere sweaters, organic lip balms, and more.
Through the new convenience kiosk, Marshall Retail Group offers items that not only ease everyday travel, but consistently keep the consumer's comfort and health in mind.
"travel+well gave us the chance to finetune the assortment of products we offer to our customers," said Michael C. Wilkins, CEO, Marshall Retail Group. "Traveling is more than just getting from one place to another; it's a chance to explore your surroundings and prepare you for the journey ahead. This kiosk offers an evolved airport experience for ultimate comfortability for every traveler that visits SMF."
travel+well is open from 4:30 a.m. – 12:30 a.m. daily. For more information on Marshall Retail Group's partners and store locations, visit marshallretailgroup.com.
###
About Marshall Retail Group
Marshall Retail Group (MRG) is America's largest, independent specialty retailer in the airport, casino, and resort marketplace. For 60 years, MRG has provided clients with a portfolio of attractive, successful brands that turn pedestrians into window shoppers, window shoppers into buyers, and buyers into loyal, repeat customers. The premiere retail development company currently operates more than 170 locations across the United States, with 70 of those operating inside airports. Stemming from iconic retail pioneers, Art Marshall and Herb Rousso, MRG has grown into a wide variety of markets such as major gaming corporations and many of the nation's largest airports by "Creating Unique Experiences" with the consumer in mind. MRG has been awarded "Best Brand Retailer" and "Best Customer Service in Retail" in the 2019 Airport Experience Awards®, and winner of USA Today's "10 Best" awards in 2019 for "Best Airport Shop for Local Merchandise." For more information visit: marshallretailgroup.com. Like and follow MRG on Facebook, Instagram and Twitter.
Media Contacts:
Kirvin Doak Communications
marshallretailgrouppr@kirvindoak.com
702.737.3100