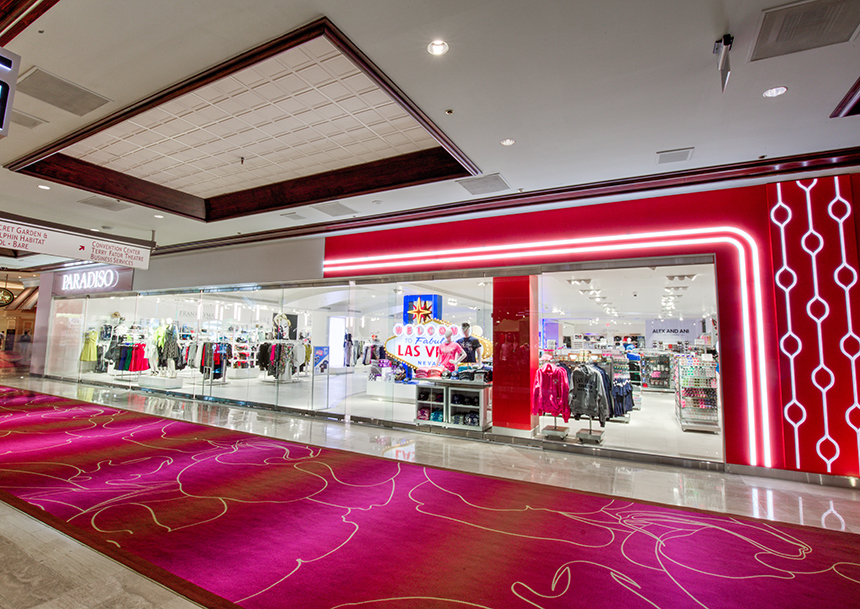 Images may be downloaded here.
Tweet It: .@MRGRetail announces the newest @Welcome2LVGifts and #Paradiso stores are #NowOpen inside @TheMirageLV! Open daily at 9 a.m. #WelcomeToLasVegas
LAS VEGAS (July 29, 2019) – Marshall Retail Group (MRG), announces the opening of its newest dual store concept inside The Mirage Las Vegas – a redesigned Paradiso women's apparel store and Welcome to Las Vegas Gift Shop.
Paradiso, MRG's premier "ready to wear" shop, offers popular women's brands including Joseph Ribkoff, Frank Lyman, and Alberto Makali, as well as a shop-in-shop jewelry and accessory department displaying an endless array of Alex & Ani, Brighton Collectibles, and Swarovski jewelry creations. This location will also offer an assortment of playful yet sophisticated luggage and weekend travel bags from American luggage company Chariot.
"We're excited to unveil the new Paradiso store with the updated design," said Michael C. Wilkins, CEO of Marshall Retail Group. "With the changing trends, it's important to grow and evolve with them by refreshing the look of our stores. The unique dual store environment gives guests the luxury of shopping with ease between the shared space."
The Welcome to Las Vegas Gift Shop boasts an elevated aesthetic from its original concept featuring vintage Las Vegas graphics, which pay homage to the original Castaways Hotel & Casino property that once occupied the north end of the Las Vegas Strip. The one-stop gift shop provides guests with an extensive assortment of Las Vegas-branded souvenirs, novelty gifts, keepsakes, and apparel.
Paradiso and the Welcome to Las Vegas Gift Shop inside The Mirage Las Vegas is open from 9 a.m. – 10 p.m. Sunday through Thursday, and 9 a.m. – 11 p.m. Friday and Saturday.
###
About Marshall Retail Group
Marshall Retail Group (MRG) is America's largest, independent specialty retailer in the airport, casino, and resort marketplace. For 60 years, MRG has provided clients with a portfolio of attractive, successful brands that turn pedestrians into window shoppers, window shoppers into buyers, and buyers into loyal, repeat customers. The premiere retail development company currently operates more than 170 locations across the United States, with 70 of those operating inside airports. Stemming from iconic retail pioneers, Art Marshall and Herb Rousso, MRG has grown into a wide variety of markets such as major gaming corporations and many of the nation's largest airports by "Creating Unique Experiences" with the consumer in mind. MRG has been awarded "Best Brand Retailer" and "Best Customer Service in Retail" in the 2019 Airport Experience Awards®, and winner of USA Today's "10 Best" awards in 2019 for "Best Airport Shop for Local Merchandise." For more information visit: marshallretailgroup.com. Like and follow MRG on Facebook, Instagram and Twitter.
Media Contacts:
Kirvin Doak Communications
marshallretailgrouppr@kirvindoak.com
702.737.3100